Message from the Unit Director

Opening a New Window on Asia
The Kyoto University Asian Studies Unit (KUASU) is an interdisciplinary academic network, established in December 2012 through collaboration between six graduate schools, two research centers, and the International Center at Kyoto University. KUASU is pursuing a range of research and educational projects in partnership with universities and research institutes not only in Asia but worldwide (with a total of 54 partners at present) with a view to advancing mutual understanding among people in Asia and round the world, and addressing the challenges which they share.
Our activities are directed to the achievement of the following three missions:
1. Creation of a world-leading research center for integrated Asian studies through international and interdisciplinary collaboration.
2. Global human resource development through an international collaborative program for graduate studies.
3. Establishment of a common foundation for mutual understanding and problem-solving through Asian studies.
We expect that KUASU will open a "new window on Asia" by providing researchers from Asia and across the globe with new opportunities to connect and collaborate, and by enabling students from Kyoto University and its partner universities to build friendships with classmates across borders and to grow into global citizens equipped with local sensibilities.
We warmly welcome your ongoing support and involvement.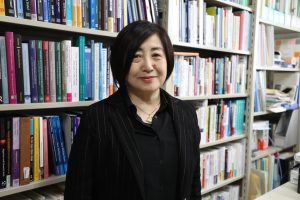 Emiko Ochiai
The First Director of Kyoto University Asian Studies Unit