Dr Wako Asato of the Graduate School of Letters receives Presidential Award in the Philippines
Program-Specific Associate Professor Wako Asato from Kyoto University's Graduate School of Letters received a 2014 Presidential Award (Kaanib ng Bayan Award) for Filipino Individuals and Organizations Overseas conferred by President Benigno S Aquino III at a ceremony held in Manila on 5 December.
The Presidential Awards recognize individuals and organizations that have made exceptional or significant contributions to Philippine reconstruction, progress, or development, or that have significantly helped to advance the cause of overseas Filipinos.
A scholar of Asian studies specializing in international migration, Dr Asato's activities include working with a non-governmental organization that provides scholarship grants to underprivileged students in rural areas. He is also working in partnership with the Commission on Filipinos Overseas (CFO), a Filipino governmental agency, to provide Japan-bound emigrants with orientation seminars that cover various aspects of living in Japan, as part of a program jointly organized by the Kyoto University Asian Studies Unit (KUASU). One of Dr Asato's collaborative research projects with the Philippine government, which helped to uncover human trafficking cases in Osaka Prefecture, has been widely reported in the media.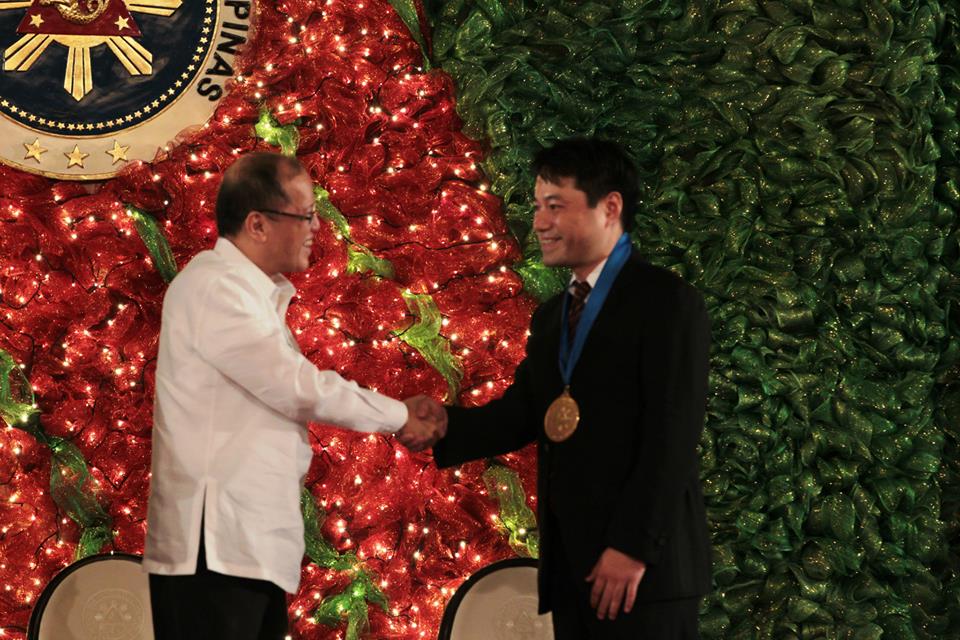 Dr Asato, right, shaking hands with Philippine President Benigno S Aquino III